You may have noticed the blog went quiet again. (And then again maybe not, as nothing kills off a readership like never updating.) I have periods of activity where I can work on my writing projects and post regularly. Sometimes I need to choose between the two and I choose my writing projects over the blog. And sometimes life spins out of control and I get nothing done on either of those two fronts. Sometimes this is in the form of something out of my control (an exploding toddler, first trimester daze etc). And sometimes it is a direct result of laziness that gets coupled with apathy that then spins out of control. You know the drill.
I am not alone here. Something happens to throw you off your writing routine. A friend has a crisis and knows you work from home or you have a blue day that turns into a blue week. Much like a gym routine, once you have broken from your writing it is so difficult to return to it.
Something you loved has become something to be squeezed in. And this despite the fact that not only do you feel better for having done it, you KNOW you feel better when you do it.
And yet you avoid it like you would rather have pencils driven into your eyes. You may even find yourself being snappish and irritable and have no idea why. Although you may strongly suspect that it could be because you are neglecting that part of you that needs to create. That part that shrivels up when it is bound and gagged and takes you down with it. Yet we choose not to act upon it.
Why are human being like this? Creativity is like our muscles. When we use it regularly it becomes strong and easy to use. It makes the rest of your body and soul feel great. Using it is a joy.
And just like your muscles, when you stop using creativity on a regular basis it loses its power. And it requires effort to get back into shape. Effort that is fuelled by energy that needs to come from other areas of your life. And we often feel like we just do not have it in us to do so.
When I find myself in this situation I start to beat myself up. And then I forgive myself. Admit that I have gotten off track. But I do not need to stay there. Instead I need to forgive myself for the past and use my butt kicking for the present. As a tool to move forward, not a way to continue to be unproductive while taking potshots at my self esteem.
It helps no one and allows me to continue to be unproductive and is a pretty crappy way of assuming accountability while still doing nothing about it.
And just because my first day back is not as good as it was before, I do not allow myself to quit. Just like I would not expect myself to run a marathon after 6 months of not even lacing up my sneakers, neither do I expect to be able to just pick up where I left off with my writing. That is not to say that I allow myself to slack off at first sign of trouble. But I take note of it and like I would with my toddler, I guide myself back to where I want to be. Maybe its just morning pages over coffee for the first week. Or a slotted hour in at the cafe near my daughters daycare. But it is something manageable and I do it.
I start practising setting my boundaries again, as I have come to accept that this is also something that requires constant practice. I set my priorities and I say no to friends who want to meet for coffee during my set writing time. If I would not cancel a class to go for coffee why would I cancel my writing time to do it? And I find that a little self love and acceptance with some boundary control has me back writing again. (And in this case I expect to have another handbook out by early next week.)
Finally, when I feel myself starting to stray, I remind myself that even if I am not as productive as I want, I am still writing and publishing, something that 4 years ago I was not. Then it was just a pipe dream. Now it is a reality.
And better to be doing something rather than nothing. And that normally gets me back on track as well.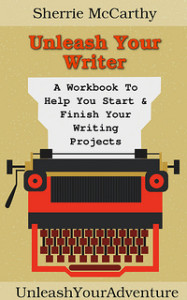 And yes, I do need to revisit and go through the exercises I established in my Unleash Your Writer Workbook. Life is a constant cycle of learning.
Get this ebook on:
Smashwords (all formats) | Amazon (Kindle)