My newest workbook, The 7 Day Creativity Jumpstart Workbook, is now out on Amazon and Smashwords,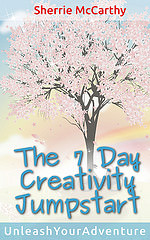 AND with the following coupon (type in WJ29E) you can get it for 50% off at Smashwords from now until December 8th, 2014.  Which means only 2 dollars!
Book blurb:
Despite the joy and fulfillment we receive from living a life with creativity in it, few of us allow ourselves the right to create. Instead we allow outside pressure to stop us from what we consider an indulgence rather than a right. We force ourselves to do things we don't love and deny that which we do. We let the everyday overwhelm us and always assume that some day we will finally do that which we love, all the while never appreciating that we need to actively create a space to practice our creativity. In the words of Andy Warhol "They always say time changes things, but you actually have to change them yourself."
This workbook is about helping you identify where you need to make changes in your life in order to allow creativity to come in. It aims to be a jump start to reconnecting with your creative self, finding the blocks and getting past them to do whatever creative art it is that you love. What it is not is a book of creative prompts.
If you want you can compare it to financial problems. A person who needs money can borrow it and be temporarily cured of a financial crunch. However, that is not going to remove the deeper problem of that person's relationship to money. The 7 Day Creativity Jumpstart looks at fixing the real reasons you are not creating and not just addressing a lack of ideas you may have.