Don't look at me I am writing! Such a deep and dark secret! Even worse, someone on the internet doesn't like it. The shame and the horrors.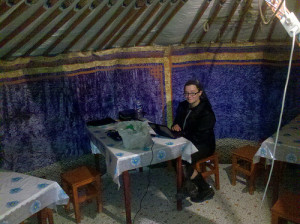 Bad reviews can be soul crushing and the very thought of them were a massive roadblock to my wanting to write. Even if writing it out now makes me laugh, the thought of someone not liking my work scared me. Seeing how others (both far superior in talent to myself as well as worse) received nasty reviews and not only survived but even continued to publish gave me the courage to let my fears fall to the wayside and put myself out there. (It also helps when you have a German partner who never lets up and pushes you at all times). And like every other author out there on the planet, I did receive some bad reviews. I also received good and even a couple of great reviews.
And yet it was the bad review that took up residence in my head. It's weight so out of proportion.
It doesn't seem to matter if the good reviews outnumber the bad. That they exist hurt. And for me it was not just that they had something hurtful about my book. It was that other people were also going to read that about my book. People who would laugh at me.
Suddenly I found myself in junior high again, on the one hand with no interest or desire to be in the popular crowd, and yet hating it when one of them felt the need to single you out for whatever offence they deemed you had committed.
There was a reason why I wrote this as the lead in to the book description for Unleash Your Writer: A Workbook To Help You Start & Finish Your Writing Projects:
"Writing is far too often the unachievable dream or the dirty little secret of too many writers. The reasons are many and can include everything from a lack of time to the paralyzing terror that everyone is going to laugh at you. The wonders of the Internet and the self-publishing revolution mean not only are your dreams closer than ever before – so are the distractions. So you can convince yourself that even if you had the time you are not that special brand of masochist who would chance having your high school bully read your work before mocking it on Facebook for all to see."
Because that is exactly what used to keep me from wanting to publish. Why expose myself not only to strangers, but also to those that know me?
Of course I could have used a pseudonym. But that is a topic for another time. The point is I did eventually get past the fear of bad reviews. And now I barely even read my reviews, good or bad. And when I do I go into it with the intention of learning how to be a better writer. That is not to say I play to readers no matter what the cost. But if everyone is saying the book is badly edited or boring, well, they may be on to something I can then use to improve my next book. So every couple of months I look at my reviews keeping the following in my head:
This is just someone's opinion.
Is it even a fair assessment? So far there is only one review for Unleash Your Writer, and although I can take some of it and apply it, I really feel she missed the point of the book. I can't change that. What I can do is try to stop others from having the same experience. This means rewriting the description to further highlight the book is not about coming up with ideas or how to structure a story, and IS about digging into what is emotionally stopping you from writing so you can past your excuses.

Can I learn from the review? (As in keep doing what they liked and stop doing what they didn't?) If not, move on. It is just an opinion. And sometimes one that is less about giving honest feedback and more about venting rage that they feel they could have done better but didn't. Do not engage.
I don't recommend reading all your reviews, at least not on a regular basis. But the occasional check in to see what is being said can be important. Your reviewer might have a valid point. One that you can then use to improve your next book. Or you might find they are completely off the wall and you might have to find yourself reexamining your book blurb to see if you can be clearer as to who this book is for.
And in the end, a bad review can even be good!
Internet rejection and bashing is actually what made me seek out Martha Beck. And now I love the woman. And although I am not a romance fan at all, I loved reading this interview with Ruth Ann Nordin on the Smashwords blog about how she almost gave up because of the hurtful 1 and 2 star reviews she received. But she let the people who loved her work win out. It really inspired me and made me remember that not everyone is going to like your work. And some of those people are going to write mean and horrible reviews. But my experience has been those who write mean reviews are writing from a mean place. And you shouldn't listen to them. Those who write an honest review, even if it stings, leave you with valuable advice for next time, and then you need to let it go. Next time you will do better.
And it is always better to learn and continue with your path and what makes you happy than to let others derail you. Because those people move on and do not think about you anymore. And you are the one left changing your life for fear of what someone said once and forgot about, even if the internet remembers it.
No one else is dwelling on it. You shouldn't either.
My dog still loves me. And my toddler, but I think that only applies til she's a teenager…