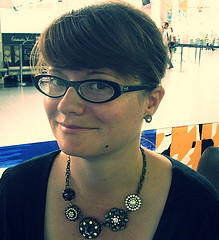 I am a mama, writer, teacher and adventurer. If you are interested strictly in the adventure aspect, pop over to Unleash Your Adventure. There you will find posts about overland motorcycle trips and sailing with a family. This site is my writer's blog.
I dream of a world where women are free to be themselves. To say "I am a writer" without fear of ridicule (real or imagined). To say "I'd love to run a marathon" and be met only with encouragement instead of being told "we are too fat" or "too lazy" to ever succeed. I want us to be encouraged when we fall while still being brought back to our feet when we start to whine. I would love to see a world where we are aware of when we need to grieve and when we are indulging in self-pity. And still a place where the desire to wallow is understood if not encouraged.
We beat ourselves up. We beat each other up. So often we rejoice in the downfall of others because it makes our own shortcomings seem less shameful. And I want a world where we fight against that impulse.
And if not the world than at the very least I want my tiny corner of the Internet to be a place of acceptance that still challenges us to learn from our pasts – both its successes and failures. I believe that is where the difference between growing and stagnating lies. Not the mistakes or the pain. But the stagnation that comes with denial.
 "Perfection is static and I am in full motion." Anais Ninn
That has been my favourite quote since I was 20 and the motto that I use to define my life and my courses. Because being alive is glorious. But it is also scary and icky. After all, the days where you vibrate with energy and happiness are also matched by dark misery and disconsolation. And then there are all those days that fall in between. The ones we often let slip by because we believe them to be so ordinary. Until one day they are not.
And so I write books about my adventures (mostly with my motorcycle) and offer courses and workbooks on creativity and how you can be more productive in your creative endeavours and how to map out the life you want. Then to go after it. I figure if I can do it anyone can. And if in the process you figure out you don't really want what you thought you wanted all along – well that's ok too! Better to find it out sooner rather than later and stop beating yourself up over things that you do not want to change! I believe life always offers the opportunity for adventure and to learn more about who you are and what you want. That can take place in the middle of Mongolia or inside your very own kitchen.
Come find me and say hello! Make me feel less crazy talking to the internet, not that it will stop me!
Awesome Videos & Resources That Resonate With Who I Am:
These videos and links to other books or resources are from wise and experienced teachers who have a wealth of information and advice to share. (And I am pretty sure they would all tell you they also have so much more to learn).
If you watch no other video online ever, watch this one from Neil Gaiman to the graduating class of the University Of the Arts. I also love to read Jen Louden's blog for regular posts on being a writer and a teacher.
Ira Glass's Advice to Beginners is a must watch for anyone struggling with the fact that what you are creating is just not up to scratch, and why you should never give up! Get the Zen Pencil's poster and stick it over your wall and never give up!
Ira Glass on Storytelling from David Shiyang Liu on Vimeo.
And anyone who is creating and putting their stuff out there should check out Brene Brown's talk for 99u. It is brave and wonderful.
I love this video, it is a great way to stop thinking that "stuff" is the solution to all your problems and instead see that it is letting go of the need to acquire things and instead start working on acquiring experiences. You do have enough in you to write that book. And you can find the time. You just need to let go of some things first. Mr. Money Mustache is another great resource for relearning how you approach your money. Frugality is the new fanciness is a great place to start!