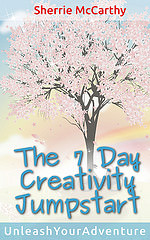 Just a reminder that The 7 Day Creativity Jumpstart is available on Amazon, free for Kindle Unlimited subscribers.
Day 4 looks at what your inner creative needs, but also tries to examine what they need versus what they want.
As stressed by myself and countless others, if you wait until the prefect time you will never get anything done. My inner writer wants to have a writer's retreat all the time. In reality I have two children under 3 years of age who need me and most of my time.
And so today looks at what you need but also what you are allowing to block yourself in the name of needing it. And I continue to put into practice what I say to do. If I wait until the perfect time and edit these videos to within an inch of perfection not only will they never come out, but I also need to consider the 80/20 rule. How much time will I have spent (about 80% of it) versus how much extra result? (20 or less).
So here is today's video in two parts, with more vocal baby!