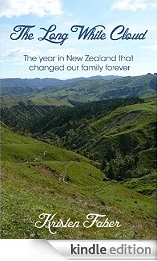 Since the birth of my son things have been a little quiet on the site (as well as on the writing front period). With Kai about to be 3 months old I find myself having more time to start writing again. I had forgotten how time intensive a newborn is. Now that he is beginning to settle into a routine I am doing the same.  And to kick off my return to blogging I have a great interview with Kristen Faber on writing, traveling and doing it all as a mother (and whose subject happens to be her family.) She is the author of The Long White Cloud: The Year in New Zealand That Changed Our Family Forever (which you can buy on Amazon or read for free if you are a subscriber to Kindle Unlimited) or you can check out her family run blog http://www.notinert.blogspot.com/
1. What made you decide to write a book about your family moving to New Zealand?
From the first moment I could hold a pencil, I began writing letters. I had pen-pals around the world. I would wait excitedly for a letter to arrive in the mailbox, then run to my room to spend the evening sharing my life on paper with my friend. When we moved to New Zealand, we wanted a way we could share our experiences with our friends. A blog was a natural way to have the whole family involved and it also created a sort of scrapbook that held all of our memories. Friends often commented how much they enjoyed my writing style and the stories we shared. I read a travel book/memoir while in New Zealand that sort of turned me off. I finally put it down and said, "I could do better than this." I tucked that thought away for a rainy day. I visited the idea every once in awhile, but it took a period of absolute boredom and some literal rainy days to embark on this new type of adventure. It was an emotional process. I often found myself wandering around the house or standing there with a handful of chocolate chips when I meant to be writing.
Sherrie: I totally relate to that! Everything you said, but especially the emotional process of wandering around and avoiding writing, only I eat M&Ms instead! (And yes that is in the present as I still do it. I always thought that once I got one book out the rest would be easy. Ha! Talk about lying to yourself!)
2. Why did you decide to self-publish?
Writing is a hobby for me. Oh sure, little thoughts of creating a best seller pop into my mind from time to time, but they aren't realistic. I pursued traditional publishing for a small amount of time, got a bit of interest from a few agents, but in the end, my book was too narrow a focus for what they were looking for. I didn't want to kill my love for writing, so I decided to self-publish. It keeps things more in my own control at this point. Maybe, in the future, I will have a book that I really want to traditionally publish, but in the meantime I'm taking advantage of learning many things through this process.
 Sherrie: That was a big reason why I decided to self-publish as well. I saw how people like Johanna Penn were able to turn their writing into their own business where they were calling the shots. It did not mean traditional was off limits, but it did allow for the freedom to charge on in and learn as you create. For me the biggest problem is juggling writing with promoting and of course family! Which leads me to my next very important question!

3. How did you find the time to write?
Writing time was a bit like a rainy season, then a drought due to the events in my life. When I move, I don't have much time to write. After we are settled and I'm still looking for a job, I have lots of time to write. For me, it was keeping the dream alive and not loosing it when life got overly busy.
Kristen's daughter with a fish caught by a village in the Amazon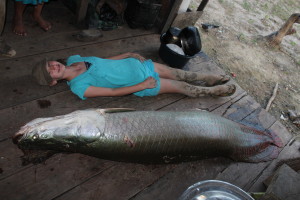 4. How long did the project take?
It took me two years of writing, with a six month moving break in there and then another year of revising and editing. It's still a continuing process as I learn how to market the book.
Sherrie: I love that even with a six month break you never quit. I really think that is something we need to remember. That we can always return to our work. So often I think we figure that since we have not worked on a project there is no point anymore. Yet it is only if we abandon it completely will it never be written!
5. What do your family think about you writing about their experiences?
Everyone is so proud of me. It's been a family process with each member editing and giving suggestions. My daughter carried the copy she was working on around school and told all her friends about my project. It made me feel good to have so much love and support from my family. They have been my cheerleaders along the way! I was very careful in my writing to keep a positive spin on all of our experiences. I would never want my husband or children to be hurt about what I wrote, no matter how honest it was. All the passages with struggle deal with my thoughts and emotions in specific circumstances. I think my kids love seeing some of the things that mom dealt with in this journey. Possibly they had some comfort in knowing that mom struggled with some of the same things they did.
Sherrie: So true! I find it can be difficult to know what to write when it comes to your family (that applies to blogging as well as books). I think in the end hurting those you love is not worth it. And there are so many layers and truths to a story like this one, you can write about challenges and struggles from your viewpoint without exploiting those you care about.
6. How did you choose what to write about?
I used our family blog and photographs to trigger memories of our experiences. From there I tried to go deeper, moving beyond our experiences to history and information about the country and culture. The book is about me, but it is so much more of an education of a people and country. Because of this, things came out in a very linear timeline type approach. One of my beta readers suggested I take another look at the order and refine it. I didn't know exactly how to do this, so I printed out a copy of the book and taped it up in a line, snaking through the house. I kept a roll of tape and scissors nearby and over the next several weeks I literally cut and pasted my book into order that would flow better for the reader.
Sherrie: I am presently working on a book about our motorcycle trip from Germany to Turkey and back and I want to approach it in a similar manner; not just what we did and saw but information on the history and of the countries we visited and particularly the food. It can be difficult with a memoir not to let it fall into strict journaling. It may  have been great for you, but less so for a reader. It is not so easy to avoid that trap however!  I really like the idea of printing out the book and cutting and pasting it in such a visual way. I will try that once my first draft is finished. (Like The Long White Cloud, my Turkey book is one that is taking years to complete!)

7. You now live in Moscow. Do you think you will write a book about that experience?
Our experience in New Zealand was unique because we were surrounded by the culture and had the freedom to explore the country. The places we have lived in since (Bogota, Colombia and Moscow, Russia) have required many restrictions because of my husband's job. Language has also created a huge barrier. I feel I have had amazing experiences, but I am lacking in knowing the heart of the country. I don't want to stop writing, I just need to find something that will pour from my heart.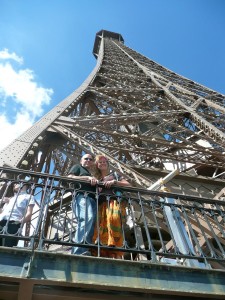 Sherrie: Well I for one hope you continue writing! Thanks for the great insights and I will be following your blog!