Confessions of A Reluctant Sailor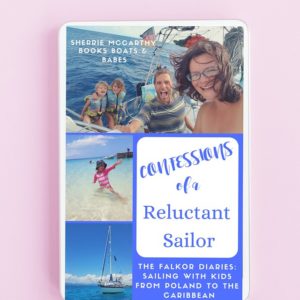 Who doesn't want to quit the rat race and pack it all in to see the world?
And it is not as if Sherrie and Patrick were strangers to travel. They met on Patrick's first round the world trip by motorcycle. Sherrie fell hard for the open road and the freedom of two wheels and a tent.
How much harder could living on a sailboat be?
Or at least that was Patrick's opinion. Sherrie is a Newfoundlander. She thought it prudent to bring up the Titanic whenever Patrick mentioned his dream of sailing around the world.
And then they had babies.
Which meant that dream of sticking them in a sidecar was no longer so realistic. Because putting imaginary babies in your sidecar is very different from putting breathing ones in. The desire to keep up a semi-nomadic lifestyle beckoned, but could Sherrie get over her fear of living on the ocean?
And just as she agrees to commit to a life afloat, heartbreak and betrayal threaten to end the trip before it even begins.
Confessions of A Reluctant Sailor tells of how one family on the verge of breaking up and a woman brought to her knees with grief, went forward with fulfilling a dream and knitting themselves back together, all the while learning the very real difference between fear and danger.
If you have ever dreamed of packing up and escaping the rat race, or even wondered how to move forward during a time of heartbreak and loss, get your copy today.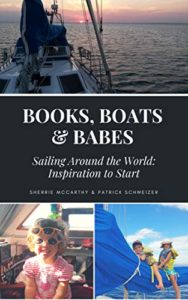 Who hasn't dreamt of packing up and just leaving their daily lives behind for a while?
Sherrie and Patrick have and for years they would take months to a year off of work to jump on their motorcycles and ride away.
And then they had babies.
Patrick knew it was time to break out his lifelong dream of sailing around the world.
But Sherrie was the ultimate reluctant sailor.
For anyone who is wondering how to convince their partner to sail away with them, or wondering if they want to do it themselves, this short collection of blog post essays is for you.
It is the story of how Patrick convinced Sherrie to move aboard and sail around the world. Or at least as far as Amsterdam.
Currently in the Carribean and planning the Pacific for 2020, Patrick considers his mission a success.